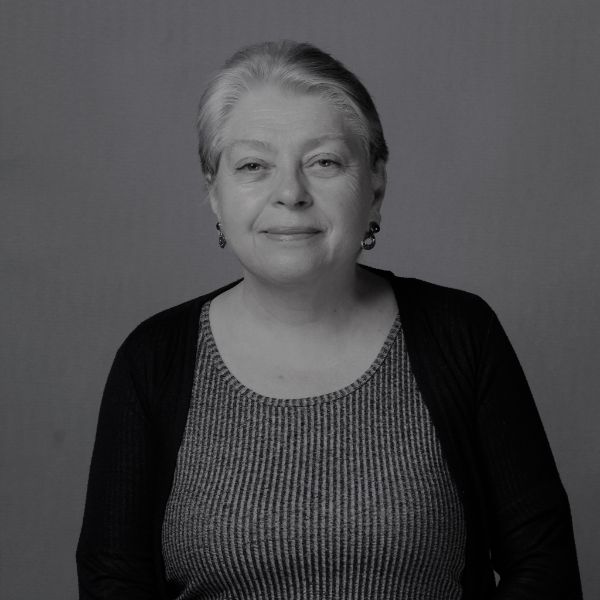 Manana Gabashvili
Professor, Head of BA Programme in Social Sciences and MA Programme in Applied Psychology
PhD in Linguistics from Moscow State Linguistic University (1980). Certified in Neuropsychology at Lomonosov Moscow State University (1977-1979). Fulbright alumna - conflict-induced displacement studies (psychological perspective) - Center for International Development and Conflict Management (CIDCM), University of Maryland at College Park, (1997-1998).
Around 40 years' experience of research and lecturing, practical work in neuropsychological assessment of language and speech therapy; 12 years' experience of working for international organisations (OSCE and Norwegian Refugee Council-NRC) at different managerial positions.
Courses:
Challenges in Contemporary Social Sciences;
Psychotraumatology;
Ambiguous Loss;
Stress of [Internal] Displacement;
Societal Trauma and Social Change Training;
Neuropsychological Assessment and Consultation;
Aphasia Studies;
Introduction to Human Neuropsychology;
Psycholinguistics;
Aphasia Studies;
Psychology of Communication.
Research and Publications: (2019-2023)
2023 - A full-scale Russian Invasion of Ukraine in 2022: Resilience and Coping within and beyond Ukraine. In: "Applied Psychology: Health and Well-Being". Appl Psychol Health Well Being". 2023 Jul 9. doi: 10.1111/aphw.12466 https://iaap-journals.onlinelibrary.wiley.com/doi/10.11 (Co-authorship with by Kimhi, Shaul; Kaim, Arielle; Bankauskaite, Dalia; Baran, Maria; Eshel, Yohana; Dumbadze, Salome; Kaniasty, Krys; Koubova, Alice; Marciano, Hadas; Matkeviciene, Renata; Teperik, Dmitri; Adini, Bruria.)
2021 – Aphasia from the Perspective of the Theory of Set (Discussion Paper). In: "Research Papers. Vol. 2", Psychological Set Research and Correction Centre, Tbilisi State Medical University, 12-23 (in Georgian)
2021 – 21st Century Psychology (Review). In: "Research Papers. Vol. 3", Psychological Set Research and Correction Centre, Tbilisi State Medical University, 29-33 (in Georgian)
2021 – "War with Invisible Enemy"- Towards Covid-19's Psycho-Semantic Analysis, In: "Covid-19 and Psychology", Psychological Set Research and Correction Centre, Tbilisi State Medical University, 49-55 (in Georgian) - Co-authorship with Imedadze, Natela and Vardosanidze, Anna
2020 – Resilience during Covid-19. Comparing Displaced and Local Populations (Research paper). GIPA with financial support from GIZ, Tbilisi (Editor)
2020 - From Migration and Integration Challenges to Good Practices: Practitioners' Perspective", GIPA-University of Gothenburg, Tbilisi, Siesta. Co-editing with Bucken=Knapp, Gregg and Zelano, Karin
2019 - Child Language: Roman Jakobson and Natela Imedadze Psycholinguistic Parallels. In: "Natela Imedadze -90". Ilia State University, 101-108 (in Georgian)
2019 - Tendencies in Aphasia Studies Development (Abstract). International conference "Humanitarian Sciences in Globalization Era". Tsereteli State University, 1-2 November, Kutaisi
Projects:
Resilience Studies, Multinational Resilience & Wellbeing Research and Knowledge Centre, International Programme in Disaster Management, School of Public Health, Sackler Faculty of Medicine, Tel-Aviv University – since 2020
SI SAYP – Swedish Institute, Summer Academy for Young Practitioners on migration and integration issues (joint project with University of Gothenburg) – since 2018
"Ambiguous Loss", joint project with the International Committee of the Red Cross (ICRC), Tbilisi State University, Ilia State University and University of Georgia – 2018-2022
Experimental Research of Psychological Stress (Uznadze Theory of Set Perspective), with GIPA internal grant support in 2018-2019
ABC- Assisting Better Communication, led by Ilia State University, supported by the Erasmus + Programme of the European Union, 2016-2018
Evaluation of the project "Active for Life: promoting rights and enhancing the capacities of elderly people in Georgia", DVV International Georgia – 2016
Research interests:
Multidisciplinary studies in social sciences; interdisciplinary studies from the perspective of intersection of linguistics, psychology and medicine – neurolinguistics and psychotraumatological topics.
Other information:
Board Member, Mental Health in Human Rights, FGIP, since 2022
Chief of the Board, Global Initiative – Psychiatry, Tbilisi, since 2021
Member, Multinational Resilience & Wellbeing Research and Knowledge Centre (RESWELL), International Programme in Disaster Management, School of Public Health, Sackler Faculty of Medicine, Tel-Aviv University, since 2020
Senior Research Scholar, Psychological Set Research and Correction Centre, Tbilisi State Medical University (TSMU), Tbilisi, Georgia, since 2019
Board Member, Association of Children with Neurological and Behavior Disorders, since 2013
Board Member, Levan Mikeladze Foundation, since 2009
Board Member, Georgian Society of Psycho-trauma (GSP), affiliated with the European Society for Traumatic Stress Studies, since 2008
Founder, Animal Rights Committee, 2000
Founder, Georgian Association for Mental Health, 1997
International Associate, Center for the Study of Mind and Human Interaction (CSMHI), University of Virginia at Charlottesville, 1999-2006