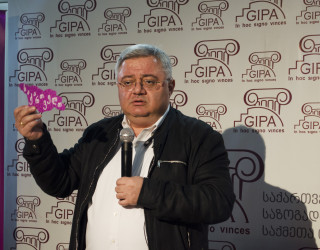 GIPA started to host the meetings with students and the Presidential Candidates of Georgia, regarding the upcoming Presidential elections. The meeting cycle was opened by Davit Usupashvili – Presidential candidate of "Development Movement". He talked about his political background, presented his program and action plan, and defined the rights and entitlements of the President, according to new constitution of Georgia.
Davit Usupashvili underlined the importance of Presidential elections, in terms of Parliamentary system of the county, while the country faces two upcoming elections - Parliamentary (2020) and Local Government (2021), before the end of the term of the future President of Georgia (2024).
"President in parliamentary system of the country means Governing with the Power of Authority and not vice versa – Governing the Authority of Power. There is a big difference, between these two models".
The Meeting ended with a question-answer regime and the students had the opportunity to get the answers about the matters they were referring to. The meeting cycle with the representatives of the Presidential Elections of Georgia continues till 23rd of October.