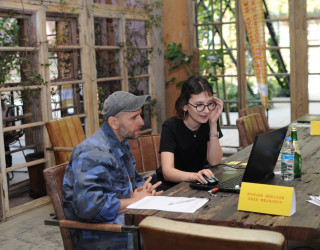 GIPA Portfolio Review 2018 was held in hotel "STAMBA" On 30 September. In total, 72 participants were in attendance (50 Students of GIPA and 22 - from other Universities).
The best Portfolio`s author was awarded the visit to the International Festival GOLDEN DRUM, but according to our Reviewers suggestions, Levan Zazarashvili will travel to "US by night - design & creativity festival".
Traditionally, students of BA in Audio-Visual and Media art named best Lecturers of the year.
The team of reviewers:
Creative director - Giorgi Popiashvili
Design director - Nick Kumbari;
Ruslan Beridze and Zaza Mesropov - MORE Studio founders and designers;
Beso Kavelashvili - Art Director;
Nino Gordeladze and Beka Meparishvili - WINDFOR's Creative Directors;
Natia Gogia - Marketing Consultant;
Sandro Tsitskishvili - JWT Metro Senior Art Director;
Nika Gujejiani - Creative director of Bank of Georgia.
The BEST PORTFOLIO of 2018
Levan Zazarashvili
Employer: Bank of Georgia, position: Motion Graphic Designer
Interests: Motion Graphics & Graphic Designer, brand identity, packaging, video graphics
Awards and Scholarship for Best Student Portfolio for Audio-Visual and Media Arts Bachelor's Program Students:
Mari Kakhurishvili - Media Art IV course
Rati Abazadze - Audio-visual art IV course
Nino Kavelashvili - Media Art III course
Alexander Baev - Audio-Visual Art III Course
Salome Tsabutashvili - Media Art II course
Giorgi Lezhava - Audio-Visual Art II course
The wine company "Besini" awarded Students by premium white and red wine.
Best Lecturers of year 2018:
Diana Maglakelidze - Visual Art History, GIPA Professor;
Kakha Kakhadze - Design / Identity;
Beso Kacharava - Sound Design;
Nino Orjonikidze - Experimental Film;
Andro Bortsvadze - Digital Marketing;
Tamar Mshvenieradze - TV production and formats;
Levan Bachia - Art Direction;
The best lecturers of the year were awarded by Sarajishvili with best cognac and by Magazine "Indigo" with three months subscription and Journals.
Project organized by GIPA
Music Project: GIPA students Andro and Dato
Visual Project: Media Art Graduates Lisa and Irishka, Young Artist Anka Bochorishvili.
Information Support: Radio GIPA, Marketing and Journal Indigo.
Gifts: GIPA Training Center, wine company "Besini", Sarajishvili and magazine Indigo.
Portfolios can be found at Artfactory