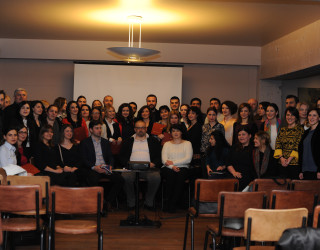 On March 26, in the Hotel Rooms, GIPA held closing ceremony of the two-year project "Result Based Monitoring and Evaluation Trainings for Public Servants", funded by World Bank.
The event consisted of two parts: awarding public servants with certificates and presentation of monitoring and evaluation case studies book on public policy issues. The book was prepared by GIPA with financial support of ECAPDEV Europe and Central Asia: Capacity Development Trust Fund of World Bank group.
Within the project 119 public servants were awarded with certificate in "Result Based Monitoring and Evaluation". The following situation cases were developed in the field of public policy:
Bringing in New Cars for Police in Georgia. Author: Levan Samadashvili
Having Water close _Mobile Melioration Situation Analysis. Author: Nikoloz Abuashvili
Development Plan of the Resort on Goderzi Pass. Author: Irakli Galdava
Immigration Policy in Georgia. Author: Nino Ghonghadze
Event was attended by public officials and representatives of Georgian Institute of Public Affairs.