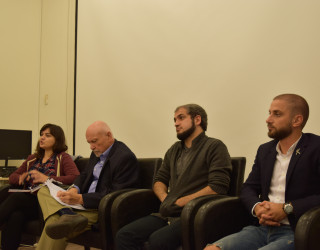 The Georgian Institute of Public Affairs (GIPA) has organized a Panel Discussion within the framework of Environmental Management and Policy Master's Degree Program, dedicated to discussing today's one of the topical issues Tbilisi General Plan.
The Discussion, which represented the participants views on New Tbilisi, was attended by David Asanidze- Head of Urban Development Department of Tbilisi City Hall; Anano Tsintsabadze- representative of the NGO 'Open Society Georgia' Gogi Abashidze- member of the Tbilisi General Plan Working Group; Levan Khutsishvili- Expert; Nani Macharashvili – Head of the Research Department of GIPA and Environmental Management and Policy Master Program's Students.
The discussion was moderated by invited lecturer Roger Akeley.