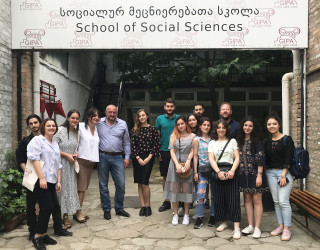 The English Language Student Project "Speech and Debate Club" was completed at GIPA's School of Social Sciences, which aimed to develop communication skills, debate techniques, and public speaking skills among participants.
The project was the initiative of the Social Sciences Bachelor Program Students, which was implemented with the financial support of GIPA and comprised a 12-week period. The project's activities were divided into two phases. During the first phase, the students were trained in public speaking techniques, and in the second phase they learned debate techniques and then put them into practise.
The project was led by GIPA Canadian lecturer, Mr. Jeff Morski. It is worth mentioning Mr. Morski's significant experience in communication, journalism, and international relations, which contributed to the project process to be more informative and interesting.
The first phase of the project ended with a speech competition and the project concluded with a debates competition among teams. Winners of both phases were awarded special prizes.
At the end of the project, the Fourth President of Georgia Mr. Giorgi Margvelashvili met with the participants and discussed debate techniques and public speeches. The meeting was highly interactive with club members posing questions and then discussing the answers.