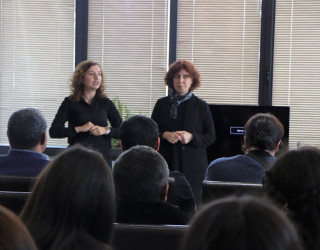 GIPA Media Lab held an award ceremony where winners of short documentary films "Through the Eyes of Youth" were announced at "Grand Mur" hotel in Akhalkalaki on May 13th.
The 1st place winner was Sevak Gabrielyan for his film, "The Only Source"
The first special price went to authors Artyom Nalbandyan, Shaliko Nersisyan and Nazeli Khachatryian for their film "On His Own"
The Second Special price went to Karen Shaybekyan for his film "My First Salary"
Chairman of Akhalkalaku Municipality, Nairi Iritsyan and representatives of non-governmental organizations as well as partners of the program were attending the award ceremony.
Short documentary films from Ninotsminda and Akhalkalaki presented problems of their region, such as lack of water, elderly problems and youth employment and etc.
Multimedia Skills and Media Literacy for Ethnic Communities of Georgia, conducted by Caucasus School of Journalism and Media Management is funded and supported by the U.S. Department of State and U.S. Embassy in Georgia.