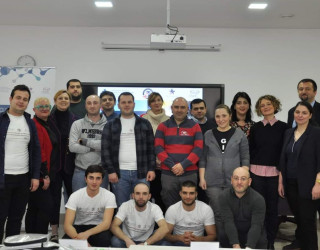 On February 12-15, 2019 Georgian Institute of Public Affairs (GIPA) in partnership with the RRC International organized a joint certificate training course in Health and Safety for Managers. The training was attended by the representative of the following organizations: Georgian Railways, Batumi State Maritime Academy, Georgian Aviation University, Georgian Institute of Public Affairs and its students from the vocational program: Occupational Safety and Environmental Technologies. The training course was organized through the financial support of the Millennium Challenge Account – Georgia, within the frame of the "Industry-led Skills and Workforce Development (ISWD)" project.
The course was provided by the international expert Mr. Giorgo Mariamidze, who covered the occupational/workplace safety related topics, such as: The goal of the occupational safety and health; Safety management systems; Safety culture; Communication, cooperation, competence and control; Risk assessment and risk control; Workplace hazards; Accidents and incidents; Monitor and review the safety performance.
This course is focusing on the awareness rising of the safety measures among the managers and its importance at different levels of the organization. It is an ideal introductory overview for the managers working in different industries, especially for decision makers, who are in charge of the occupational safety and health related issues.
After completion of the course, training participants will receive the GIPA/RRC joint certificate.