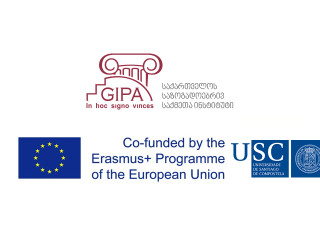 GIPA's International Relations Department announces a call for the scholarship of the Erasmus + program funded by the European Commission for a study at the University of Santiago de Compostela.
The call is open for GIPA's Doctoral students. As a result of the call, 1 best student will be selected.
List of requested documents:
Copy of Passport
Transcript of Grades (in English);
Proof of language ability (English and Spanish - if applicable)
Copy of Master's Diploma with corresponding transcript of grades (in English);
Proof of PhD registration at GIPA
Letter of Motivation (in English, not exceeding one page);
One letter of Recommendation (in English, with signature);
PhD Learning Agreement proposal (At this stage, fill in only "Research project description")
List of PhD areas at USC can be found below:
http://www.usc.es/doutoramentos/en
Interested students should submit the complete list of documents in PDF format no later than 17 January 2019, 17:00 hrs, at the following email: n.bakradze@gipa.ge
Students selection process:
Review of the documents;
Interview with applicants;
Selection Criteria: 1 best applicant will be identified in accordance with the following criteria:
Academic record
English Language Proficiency
Recommendation
Applicant's motivation
Topicality of the proposed research project
Note: Please, be advised that preference will be given to applicants, who apart from English, also possess Spanish Language on the basic level.
Duration of scholarship:
One semester (2019 Spring semester: March - June 2019)
Scholarship includes: Monthly stipend of 850 Euros + Round trip International Travel 820 Euros.
Note: Selected students will have to cover visa fee and insurance on their own!
In case of additional questions, please, feel free to contact us through email: n.bakradze@gipa.ge or phone: +995 577 57 75 11
Incomplete and late applications will not considered!
See attached file: PhD Learning Agreement proposal