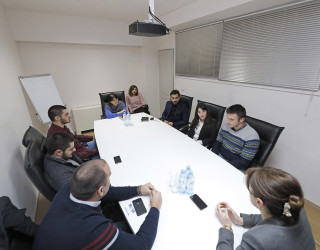 Within the Memorandum of Cooperation signed between Tbilisi City Hall Environmental Protection Service and Georgian Institute of Public Affairs (GIPA), students of the Environmental Management and Policy (EMP) Master program passed three months practice at the Environmental Protection Service.
Upon completion of the practice, Mrs.Maia Bitadze, Deputy Mayor of Tbilisi met with students.
The meeting was also attended by the head of Environmental Protection Service Mr. Giga Gigashvili, and EMP Program Coordinator Mr. Lasha Lobjanidze.
During the meeting, expressed a desire to continue bilateral cooperation and planned future joint actions.