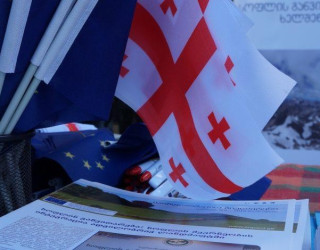 In the framework of the EU-supported project "Promoting a New Rural Development Approach in Akhalkalaki", implementing partner organization Georgian Institute of Public affairs (GIPA), Mercy Corps and Akhalkalaki Local Action Group (LAG) announce grant competition in Akhalkalaki municipality.
The Purpose of the Grant Call:
The purpose of the grant call is to fund projects, which improve the standard of living and socio-economic situation in Akhalkalaki based on the priorities and objectives of the Akhalkalaki Development Strategy developed by LAG Akhalkalaki.
Please see grant manual, for detailed information on the grant competition requirements and procedures.
Deadline for applications is 12 of April 2018. The hard copy of applications must be submitted. Address: Gusan Havas st #7, 0700, Akhalkalaki, Georgia.
Interested parties can receive consultations at the project's Akhalkalaki office in Akhalkalaki, Gusan Havasi st#7, or via following contacts:
Sergey Khachatryan – 599 19 97 46 LEADER Coordinator

Sergey Sakhbekyan – 599 19 36 62 Project Officer
All necessary information regarding the grant competition will be placed at the following web pages: ENPARD official website www.enpard.ge, Akhalkalaki LAG web-page: www.akhalkalakilag.ge and the Akhalkalaki LAG Facebook page (Akhalkalaki Local Action Group – LAG).
The project "Promoting a New Rural Development Approach in Akhalkalaki" is implemented by Georgian Rural Development Department of Georgian Institute of Public Affairs (GRDD of GIPA) in partnership with Mercy Corps, Elva Community Engagement and West Cork Development Partnership. The project is funded by the European Union within the framework of the European Neighbourhood Programme for Agriculture and Rural Development (ENPARD).
Please see attached following documents:
Akhalkalaki Local Development Strategy