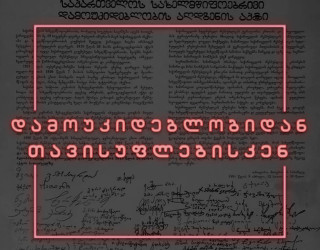 Independent country is comprised with independent people. History of our country is the clear example of struggle for independence and freedom. Declaration of independence of Georgia, is the most crucial event in the history of our country. As Vazha Pshavela says: "freedom of an individual and a country is very tightly intermingled, if a person is not free, the whole nation is a slave. "
GIPAs mandate is to bring up responsible and free generation with capacity of creating new reality, pursuing democratic values, rule of law, acting in accordance with human rights and state interest. We do believe that these people will gain independence and create independent environment in our country.

From July 16, GIPA joined the campaign From Independence to Freedom - 100 Years of Republic' and launches a week dedicated to the 100th anniversary of the declaration of the First Independent Republic of Georgia – the event is held specifically for our graduates.
All interested individuals are allowed to attend the event, which will be held in the National library of Parliament of Georgia, in the President's palace and Georgian National Youth Palace. Public lecture series will be started by Georgian writer, Giorgi Kekelidze on July 16, "People of 20th century and their place in the independence of our country" registration: https://goo.gl/NLVobf