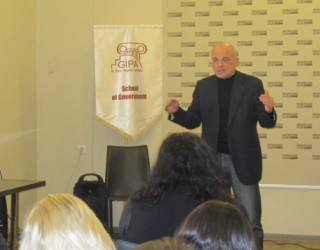 On 11 March 2015, the Frontline Club Georgia at the Georgian Institute of Public Affairs the former Minister of Agriculture, Davit Kirvalidze met with the students. Professors and administration staff were also attending the meeting. The subject of the meeting was Village and the Challenges of Agriculture.
Davit Kirvalidze headed the Ministry of Agriculture for years. Starting from May 2014 he is a board member of the US-based non-governmental organization CNFA.
According to Davit Kirvalidze, agriculture had no support from the government, therefore the entire system should be reformed and accommodated to the interests of peasants and farmers. He also noted that there are numerous problems in the country in terms of infrastructure, no less important are the issues related to mechanization, provision of raw materials and fertilizers. Credits should be made affordable for farmers. When all of the above are not in place, agricultural products cannot be competitive. Davit Kirvalidze further noted the importance of actively employing the young labor force in the sphere of agriculture.
Students were eagerly involved in the lecture and the meeting proceeded in the Q&A manner.