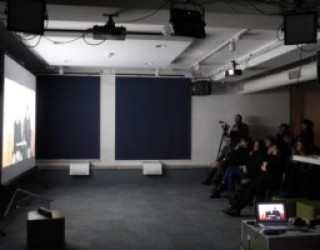 On November 20-21, Student's documentaries GIPA DocU 2014, was held in the third time and has the annual face.
Eight short documentary films, evaluated by the Festival guests and jury, were prepared by GIPA's journalism faculty's Georgian, Armenian and Azerbaijani students.
The event was attended by the US Embassy, USAID-, IREX Georgia, Representatives of film-centre and other specially invited guests from the partner universities, embassies, public, civil society and the private sector.
Films, part of which was financed by IREX Georgia, the students filmed within the documentary film's class, headed by Nino Orjonikidze and Tiko Nachkebia.
On November 21 at 19:00 jury named the best film, which included the following:
Nana Ekvtimishvili- producer
Keti machavariani- producer
Irina Demetradze- producer
Levan Adamia- producer
The winner, Giorgi ChageliSvili got GIPA's prize of 1 500 GEL.
GIPA DocU 2014 – Winners :
Best documentary film:
'A FRIEND' by Giorgi Chagelishvili

Jury special mention:
'A FAMILY ALBUM' by Hovhannes Ishkhanian
'IMAGES OF WAR' by Ani Mejlumyan

Best Pitch:
'SHANKHAI IN BAKU' by Bayram Isgandarov

Jury special mention for the best documentary project:

'LEFT INSIDE' by Sona Simonyan
'SLAVIK'S PROTEST' by Anushik Avetyan