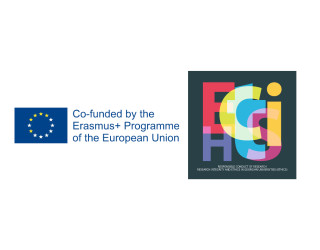 FIRST NATIONAL PARTNERS' MEETING WITHIN THE FRAMES OF ETHICS PROJECT
On March 1st, 2023 Ilia State University organized and hosted the first national partners' meeting within the frames of the European Commission Erasmus + CBHE Programme Structural Reform project Responsible Conduct of Research – Research Integrity and Ethics in Georgian Universities (ETHICS). The meeting was attended by the representatives of Georgian Higher Education representatives involved in the project as well as the representatives of non-university partners (Ministry of Education and Science, National Center for Educational Quality Enhancement and Shota Rustaveli National Science Foundation).
Project Consortium integrates 10 Georgian HEIs, 4 European partners and 3 non-university partners from the Georgian public sector. The aim of the national structural reform project ETHICS is to launch a systemic intervention to improve the quality of University and Research-Performing Organizations (RPOs) research through launching measures to adhere to the foundations of high-quality research and excellence.
The aim of the first national meeting was to review ETHICS project timeline, goals and roles of the partners as well as introduction of EU Guidelines for Project Administration and New Requirements of the agency for financial management.
GIPA – Georgian Institute of Public Affairs as one of the consortium partner university will contribute to the accomplishment of the project following outcomes:
▪ Improvement of the existing tools of research reliability and integrity
▪ Development/review the policies and documents of university research integrity and ethics necessary resources
▪ Development of innovative system of research integrity, which includes the implementation of an extensive digital course MOOC, the creation of a functional research university code of ethics, and the formation of the Ethics Committee of Research Management
At the first national meeting GIPA was represented by the head of the research department – Nana Macharashvili and Ph.D programmes' manager, Natia Tchighvaria.
About the ETHICS project:
Project Coordinator: Ilia State University
Project EU Partners:
Free University Amsterdam/ STICHTING VU
Charles University Prague
Masaryk University
European Network for Academic Integrity
Project Georgian HEIs:
Ilia State University
Ivane Javakhishvili Tbilisi State University
Caucasus University Ltd
David Tvildiani Medical University Llc
Shota Rustaveli State University
Akaki Tsereteli State University
Samtskhe-Javakheti State University
Iakob Gogebashvili Telavi State University
GIPA - Georgian Institute of Public Affairs
L.E.P.L Apollon Kutateladze Tbilisi State Academy of Art
Project Non – University Partners:
Ministry of Education and Science of Georgia
National Center for Educational Quality Enhancement
Shota Rustaveli National Science Foundation
For detail information about the project please visit: https://ethics.iliauni.edu.ge/