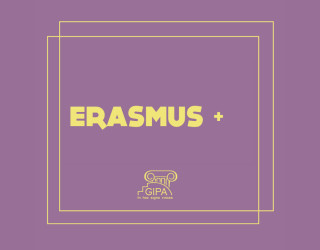 ERASMUS + Academic Staff Mobilities for Autumn 2021 and Spring 2022 Semester
GIPA's International Relations and Development Department is announcing an internal call for selection of academic staff for participation in Erasmus teaching mobilities. Mobility planning / implementation is possible in the fall 2021 and spring semester of 2022.
The call is open to full-time academic staff (not invited);
Duration of mobility:
For the purpose of teaching at a partner university, the mobility of academic staff is for one week (includes 5 working days, + 2 days for travel) and includes a mandatory 8 lecture hours.
Financial Support:
The referential amounts awarded as a mobility grant to each selected participant are consisting of daily allowance (per diem -140 -160 EUR) for staff, and of travel cost in return direction per participant, calculated by the tool Distance Calculator | Erasmus+ - European Commission defined according to distance band from the place of official seat of the sending HEI to the place of official seat of the Host HEI.
List of Erasmus+ scholarships for academic staff by directions
University of Hamburg (Germany)
https://www.uni-hamburg.de/en.html
Public administration, management of NGOs;
Number of spots: 1
University of Clermont Auvergne (France)
https://www.uca.fr/
Economics, business administration;
Number of spots: 1
Lille Catholic University (France)
https://www.univ-catholille.fr/en
Business administration;
Number of spots: 2
Note: Please note that the Teaching Plan must be agreed in advance with the representative of the Lille Catholic University: Clémence ROGER (clemence.roger@univ-catholille.fr ) (official letter is not required, email consent is sufficient). When completing a teaching plan, please refer to the catalog of subjects offered by the host university. After that, you need to complete the Learning Agreement.
University of Vigo (Spain)
https://www.uvigo.gal/en
Political science: Political systems in the Caucasian republics;
Number of spots: 1
Universidad Católica San Antonio de Murcia (ესპანეთი)
https://international.ucam.edu/
Psychology, business administration;
Number of spots: 1
University of Rome Tor Vergata (Italy)
http://web.uniroma2.it/
Law, economics, political science and civics;
Number of spots: 1
University of Wroclaw (Poland)
https://uni.wroc.pl/en/
Political science;
Number of spots: 1
University of Economics in Bratislava (Slovak Republic)
Business, economics;
Number of spots: 1
Eötvös Loránd University (Hungary)
Journalism, Information;
Number of spots: 1
University of Pécs (Hungary)
Law, political science and civics;
Number of spots: 1
Hungarian University of Agriculture and Life Sciences (Hungary)
Environmental Management and Policy, Sustainable Environment Development, Environmental Protection;
Number of spots: 1
Experience in conducting an English language course:
In case of participation in the Erasmus exchange programs for the implementation of teaching courses by the academic staff, a necessary precondition is the experience of conducting teaching courses in English. In order to prove this, interested academic staff member must submit a certificate (or other proof document) from the HEI in which he / she is certified to have completed the course in English.
Deadline for submission of documents:
Those wishing to participate in the call must send the full list of application documentation by 17:00 on September 27, 2021 to the following e-mail n.bakradze@gipa.ge
(Indicate in the e-mail the selected European university according to the relevant thematic priority)
List of application documentation:
Teaching Plan;
Copy of passport;
Completed Application Form;
CV;
Certificate of experience in conducting an English language course;
Selection procedure:
The submitted application documents will be reviewed by the Call Commission of the Georgian Institute of Public Affairs;
The winning candidates will be identified by the commission;
Information / documents about the selected candidates will be provided to the host university;
Final selection of academic staff by the host university
If you have additional questions, please contact us via the following e-mail: n.bakradze@gipa.ge or call 577 57 75 11
Incomplete and / or late applications will not be accepted!