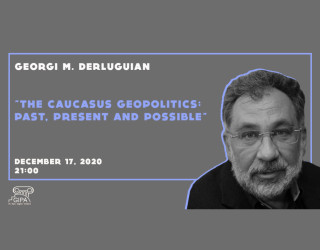 Georgian Institute of Public Affairs (GIPA) and its Public Administration MA program, host a public lecture by Georgi M. Derluguian. The name of the lecture is ''The Caucasus Geopolitics: Past, Present, and Possible.''
The Caucasus Geopolitics: Past, Present, and Possible. Geopolitics is not a nationalist fantasy, for better or for worse. It is the bedrock on which politics, economy, and identities grow. Its basic properties were theorized long ago by Max Weber. What could this tell us about the origins of the Caucasus nations and their present? Most important and difficult is to predict the future. But even that might be done when dealing with ''climate'' rather than merely political ''weather''.
Georgi Derluguian studied African languages and history at Moscow State University. In Mozambique during the 1980s he saw his first civil war. Moving to America in 1990, he taught at various universities including Cornell, Michigan, and Northwestern and studied the evolution of human societies while also practicing expeditionary fieldwork mainly in the Caucasus.
Georgi Derluguian is the author of:
«Why Adjaria is not Abkhazia, and Tatarstan is not Chechnya» (1994)
«Che Guevaras in Turbans» (1999)
Bourdieu's Secret Admirer in the Caucasus (2005)
the Way This World Works (Moscow, 2012)
«What Communism Was» in the volume Does Capitalism Have a Future? (Oxford, 2013) co-written with Immanuel Wallerstein, Randall Collins, Michael Mann, and Craig Calhoun which is currently translated into 17 world languages.
Since 2011 Prof. Derluguian works at New York University Abu Dhabi and prefers to live in Yerevan, Armenia.