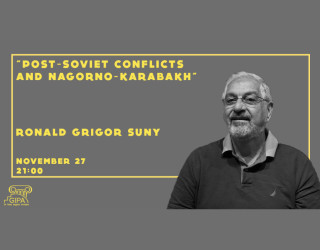 Georgian Institute of Public Affairs (GIPA) and its Public Administration MA program, host a public lecture by Ronald Suny. The name of the lecture is "Post-Soviet Conflicts and Nagorno-Karabagh"
Ronald Grigor Suny is the William H. Sewell Jr. Distinguished University Professor of History at the University of Michigan, Emeritus Professor of Political Science and History at the University of Chicago, and Senior Researcher at the National Research University – Higher School of Economics in Saint Petersburg, Russia. He is a graduate of Swarthmore College and Columbia University, he taught at Oberlin College (1968-1981), as visiting professor of history at the University of California, Irvine (1987), and Stanford University (1995-1996). He was Charles Tilly Collegiate Professor of Social and Political History at the University of Michigan from 2005 to 2015 and director of the Eisenberg Institute of Historical Studies from 2009 to 2012.
The Making of the Georgian Nation (Indiana University Press, 1988, 1994)
The Soviet Experiment: Russia, the USSR, and the Successor States (Oxford University Press, 1998, 2011)"
A History of the Armenian Genocide (Princeton University Press, 2015) and several other works.