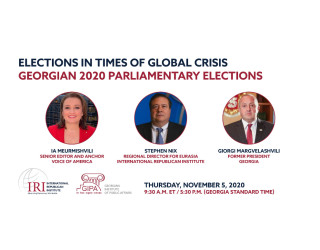 Elections in Times of Global Crisis: Georgian 2020 Parliamentary Elections
On October 31, Georgia will hold its long-awaited national parliamentary elections. These elections follow more than one year of civil unrest, heated political debate and negotiations over constitutional and electoral reform. Following the March 8 agreements between political parties, and the June 2020 passage of election reforms, Georgia finds itself entering into new and uncharted territory. With the distribution of mandates now shifted from 77/73 majoritarian/proportional list to 120/30, these elections have the potential to demonstrate shifts in political representation.
These new reforms, though widely praised by the international community, are further complicated by new measures instated by the Central Election Commission to ensure a safe voting environment during the COVID-19 pandemic. The Georgian Dream – Democratic Georgia ruling party has not only guaranteed fully transparent and safe elections, but also a decisive victory. Nearly all national polls – both ruling party and opposition – have released similar predictions. Still, opposition parties are pushing back. Will their predictions become reality? What will be the major challenges seen in the pre and post-election period? How will COVID-19 impact voter turnout?
Please join the International Republican Institute (IRI) and the Georgian Institute of Public Affairs (GIPA) on Thursday, November 5, 2020 from 9:30-10:30 (ET) / 17:30-18:30 (Georgia Standard Time).Giorgi Margvelashvili, Former President of Georgia will join Ia Meurmishvili, Senior Editor and Anchor at the Voice of America, and Stephen Nix, IRI Regional Director for Eurasia, to discuss the results of the October 31 pa rliamentary elections, and the future of Georgia's growing democracy, as well as its Euro-Atlantic aspirations.