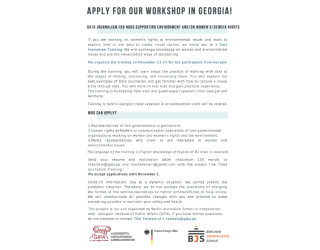 APPLY FOR OUR WORKSHOP IN GEORGIA!
DATA JOURNAL ISM FOR NGOS SUPPORT ING ENVIRONMENT AND/OR WOMEN'S/GENDER RIGHTS
If you are working on women's rights or environmental issues and want to explore how to use data to create visual stories, we invite you to a Data Journalism Training. We will exchange knowledge on women and environmental issues and use the visualization ways of storytelling.
We organize the training on November 13-15 for ten participants from Georgia
During the training, you will learn about the practice of working with data at the stages of finding, processing, and visualizing them. You will explore the
best examples of Data Journalism and get familiar with how to capture a visual story through data. You will work on real data and gain practical experience. The training is foreseeing field visit and guest expert speakers from Georgia and Germany.
Training is held in Georgia; travel expenses & accommodation costs will be covered.
WHO CAN APPLY?
1. Representatives of non-governmental organizations

2. Human rights defenders or communication specialists of non-governmental
organizations working on women and women's rights and the environment;

3. Media representatives who cover or are interested in women and environmental issues
The language of the training is English (knowledge of English at B2 level is required).
Send your resume and motivation letter (maximum 150 words) to t.tsomaia@gipa.ge and inacharkviani@gmail.com with the subject line "Data Journalism Training."
We accept applications until November 1.
Covid-19 information: Due to a dynamic situation, we cannot predict the pandemic situation. Therefore, we do not exclude the possibility of changing the format of the seminar/workshops to hybrid (online/offline) or fully online. We will communicate all possible changes with you and promise to make everything possible to maintain your safety and health.
This project is run and organized by Berlin Journalism School in cooperation with Georgian Institute of Public Affairs (GIPA). If you have further questions, do not hesitate to contact Tiko Tsomaia at t. tsomaia@gipa.ge