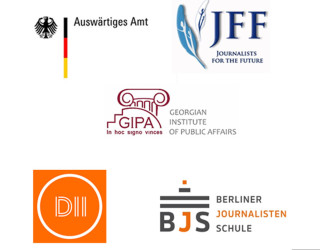 Workshop in Berlin: Data journalism for NGOs supporting environment and/or women's/gender rights
You want to use techniques of datajournalism to work most effectively for a better environment or for women's/gender rights in Armenia, Azerbaijan, Belarus, Georgia, Moldova or Ukraine? Then apply for our intense programm on data-journalism in these fields. The training is organized by Berlin Journalism School and supported by the German Federal Foreign Office as part of its programm "strengthening cooperation with civil society in the Eastern Partnership countries". It will strengthen your ability to aggregate, prepare and present data in an understandable and convincing way. And you will learn teaching skills that enable you to pass your knowledge on to other NGOs. The training in Berlin be followed by three workshops in Armenia, Georgia and Ukraine, organized by our partners in those countries, where you will work as trainers.
In the first part, most likely from August 24th to 30th, nine civil society actors from all countries of the Eastern Partnership will learn in-depth data-journalism. The focuses will be:
1) Women's and gender rights: Many inequalities, disadvantages or discrimination can be proven and substantiated by data. Whether it's the gender pay gap, domestic violence, women in leadership positions or other aspects.
2) Environment and health: competently prepared data can also be used to substantiate and communicate health threats, accumulations of serious illnesses and even deaths caused by environmental pollution. Using facts like data makes information credible and convincing.
The training at BJS is supported by visits of institutions working with data: Editorial offices, NGOs, a public authority, state institution etc. Finally, the trainers will develop a concept for the three workshops as well as the role they will take in it.
Travel expenses accommodation and costs for visa (if necessary) are taken. For the teaching at the workshops a remuneration will be paid.
Who can apply? English-speaking NGO members/staff/trainers of all ages – employees or freelancers - with proven experience in the field of women/gender or environment from one of the mentioned countries. Basic skills and proven experience in working with data is essential.
What do we need from you? A cover letter in which you describe both your professional background (including experience in giving trainings) and the reasons for your application. Documents supporting your previous data-experience in the above-mentioned topics. It can be websites, articles about previous projects and/or references from your NGO or previous employers. If you hand in documents/links in languages other than English, please add a short English summary. Please also indicate how many persons you could reach in future with your newly acquired skills. Finally, we need a detailed curriculum vitae and if possible, a proof of your knowledge of English.
Send these documents only via e-mail (pdf, in total not more than 5 MB) to <datajournalism@berliner-journalisten-schule.de> not later than July 26th, 2020.
Please send only certificates and recommendations if they have a direct connection to your applications, e.g. a prove showing experience as a trainer or international cooperation, but no certificates from university.
Covid-19 information: Due to a dynamic situation, we cannot predict the pandemic situation by mid/end of August in Germany as well as the different EaP countries.Therefore, we do not exclude the possibility of changing the format of the seminar/workshops to hybrid (online/offline) or fully online. We might also be We will communicate all possible changes with you and promise to make everything possible to maintain your safety and health.
This project is run and organized by Berlin Journalism School in cooperation with "Journalists for the Future" (JFF) from Armenia, the Donetsk Institute of Information (DII) from Ukraine and the Georgian Institute of Public Affairs (GIPA).
If you have further questions, do not hesitate to contact Clemens Schöll, head of the program <clemens.schoell@berliner-journalisten-schule.de>.