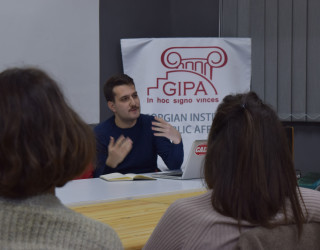 On November 28, 2019 Giorgi Tsintsadze Visited GIPA and Conducted a lecture about "What are the factors that encumber of Development Green Policy in Georgia?"
No matter that Green Movement in Georgia has established after getting the independence there are no practical changes in policy. In big cities, especially in Tbilisi and Rustavi, air pollution is growing; mineral mining regions like Tchiatura, Tkibuli and Bolnisi are forcing with Ecological disaster; Growing industries such as Tourism and Energy creating dangers to reproduction ecosystems and environment.
Why is hard to make a successful development of Green Policy in Georgia? What hinders the formation of wide public and political consensus about ecological concerns? How to overcome the dilemma in which ecological sustainability poses the economic development and when the state offers to make a choice between them.