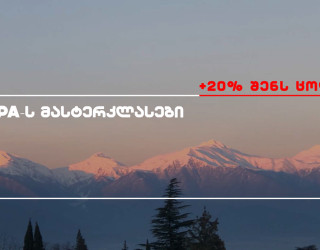 GIPA, as a publicly active institute, responds to recent developments in the country and announces free master classes "+ 20% for your knowledge".
The goal of the masterclass is to support the people whose activities may be related to current political events and challenges.
Masterclass (s) are designed for persons employed in tourism and hospitality and for small and medium entrepreneurs:
▪ Serve branding - Shota Chinchaladze, executive director of Live Branding
▪ Export Management - Gvantsa Meladze, Chairperson of Supervisory Board of Export Development Association of Georgia
▪ Finding Funds - Nikoloz Abuashvili, GIPA Professor, Head of Marketing Direction
▪ Creating a business plan - Giorgi Turkia, GIPA professor, head of business direction
▪ Digital Media Management - Anuna Bukia, Founder of Communications Agency "Cooperia"
▪Tourism photography - Lely Blagonravova, GIPA lecturer, photographer
Sign up for July 4 : https://forms.gle/C6sfUNB4rASeoxb97