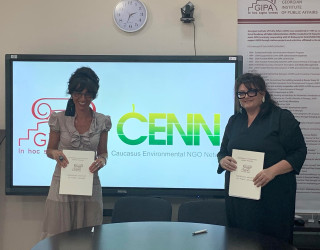 On May 27, 2019, Memorandum of Cooperation was signed between Georgian Institute of
Public Affairs and Caucasus Environmental NGO Network.

The memorandum was signed by GIPA Rector – Mrs. Maka Ioseliani and CENN Executive
Director - Mrs. Nana Janashia. Cooperation is intended for GIPA Environmental Management
and Policy Master Program students offering practices and CENN staff to enhance their
qualifications.
Both sides expressed readiness for further deepening of cooperation and set future plans.